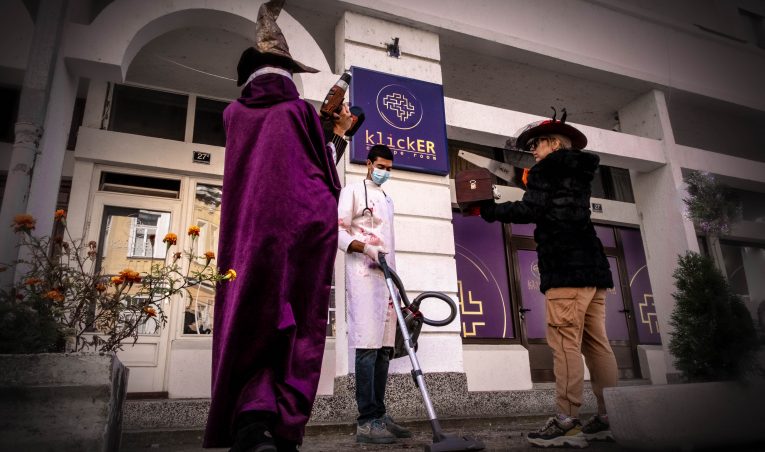 the klickER team needs reinforcements. The old leaders of the game have sweetened the period of pandemic inactivity, so we are slower and slower and we need fresh blood to do things that are no longer done for us.
Of course we're kidding. We are full of energy and ready for new games, but there are more and more games, and there are more and more ideas for new games that someone needs to realize. That's why we need (at least) one more game managergame master).
Those who were in escape room-they know that it is a girl or guy who greets you when you arrive at the agreed time, bothers you for 20 minutes with some rules, tips and a story about your game, of which not even 20% do not catch and remember, and then during the game crushes "to the microphone. You usually tell her / him during the game that he / she is annoying and that you don't need help, and when you go out you attack him / her for not wanting to help you.
The host of the game then takes a photo of you and asks how you were, what was the most fun, the most complicated, what you were bored with. You just wait to get rid of him / her, to come out and finally start retelling your anecdotes and phenomenal escape room experience with your company.
Teams with a particularly good heart offer to help the game manager prepare the room and reset the game for the new team, but he / she always rejects you because "there is no need. In fact, in the chaos you have left only for him / her, you still need to wander around the room and play, which can realistically squint and return to the starting position for the game.
This job for those who weren't in escape room-we can advertise something like this: We are looking for a cheerful, energetic and dedicated male or female person to work in a playroom where people come to lock them in a room and then watch and listen to them as they suffer looking for a way out of that room.
All in all, this is not lightly earned bread. 🙂 It is a part-time job, and you have as many jobs as there are terms to play. Kinta is good, considering how much work she has and what you do at work.
There are no special conditions for the job. You need to know all the letters and some numbers, not to push your fingers into the sockets and not to damage the inventory. Similar to the case of gaming escape room games. But don't let that over-encourage you. We are looking for a bright and fun person who will fit in well with the team that is playing at work - in the job description. And the klickER team is small and very demanding.
You can impress us by sending your si-vi-s, but we will be happier if you spare us that and do us the honor and pleasure of inviting us to 066609990 to agree when we can see each other and chat for about 10 minutes about playing, playing, living. 🙂
Contact us if you want to play at work. 😉