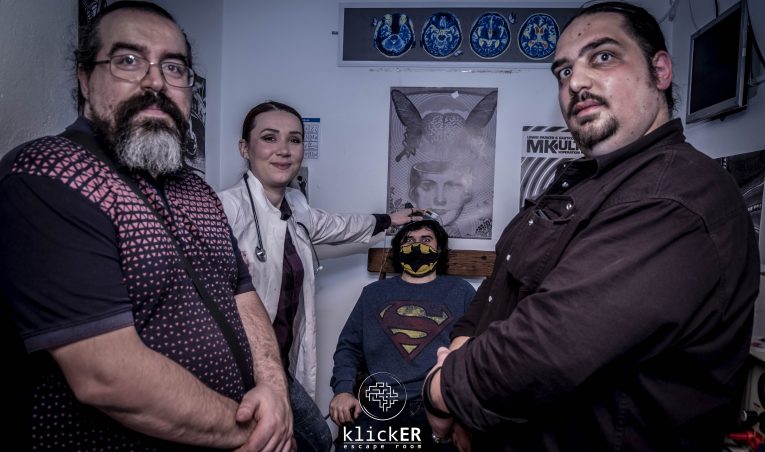 (taken from Echo of the portal)
For two years now, there has been a "klickER Escape room" in Banja Luka, a synonym for world-class entertainment in the city on the Vrbas.
This kind of project was started by a smiling and professional team that designs great games, puzzles, fun that you are happy to return to and recommend to friends.
For those who do not know the concept of "escape room" is basically that a certain person locks you in the room and not outside, and since you want to go outside (in most cases) you need to solve puzzles and tasks to get out of the room and want to return before. As this team says, "the rules are simple, and everything else is not." "Escape room is a game in which players solve logical puzzles and do not need additional prior knowledge about the topic of the room or physical force. Even if prior knowledge of the topic and interesting facts from that sphere can provide a better time and better quality entertainment, "said the cheerful clicker team.
When I talked to them, they told me that this kind of entertainment completes going out in Banja Luka, and that is really true. You can go to the cinema, go out to dinner, enjoy all the facilities of this great city, but you can also spend time with the company in klickER and play in one of these five games that these creative people have made for you. What I want to mention and what justifies their quality is that their games and puzzles are completely author's, and such effort provides players with quality. "We are always sad when we make games because we know all the tricks and we can't play," say the authors of the party.
The offer is reflected in five great games, which in my humble opinion were made on the principle of "something for everyone". The one that was my favorite and with which I entered the world of "Escape room" games is "nEuRo". A great game with a neurotic tone, darkness and a multitude of the most complex puzzles in the entire offer that at the same time surprise and make you go further because you just have to find out what awaits you next. Simply put, it plays with a creepy note, and that will only intensify because as we find out from February, there will be an option to continue in the same room with a serious horror note and it will be exclusively 18+. So we expect "NEURo" in a new spirit. The duration of this game is 77min, and it is intended for 2-6 players.
There is also a "poker" room that they say is great as the first game, as the first "Escape room" experience. At one time this was the game with the most visitors. It is cozy and bright, intended for people who like to solve puzzles in a pleasant and relaxed atmosphere. The duration of the game is 66 minutes, and it is intended for 2-7 players.
For their new game called "pRocEs", the team from klickER states that it is currently their favorite. Everything is in line with the theme, bright and interesting, but also satirical. The game deals with the famous Treason trial that took place in Banja Luka after the assassination of the heir to the throne. "Justice is slow and unattainable," they say about this game. Duration is 55min and is intended for 2-6 players.
"Magic" is a room that is at the level of the world's "Escape room" experiences. The team invested the most in this room. Time, effort, money and it really is the most beautiful room on offer. This room will enchant you, and is expected to be available as a board game soon.
I end the story of klickER's offer with a party that thrilled me. It is a game called "Treasure Hunt". Easy walk through the city on the Vrbas. Going through the history of Banja Luka and solving puzzles around the city and enjoying the stories that Banja Luka keeps. Great fun for teams that want a different and more unique pastime. The game lasts 222 minutes and is intended for 2-10 players. I suggest you pick up the team and go in search of the Treasure.
While preparing this text, I learned from these wonderful creatives that new rooms are waiting for us this year, so we are looking forward to new rooms and puzzles. I hope that we managed to present you this interesting thing in Banja Luka and that you will have a new way to enjoy. klickER is located at Braće Mažar i majke Marija 27F in Banja Luka. Choose your first klickER experience, book an appointment and let us know your impressions.
Author: Zoran MATIĆ